This is our high quality best value and number one selling no flip mattress set we offer.
This mattress set offers all of the features of the Quest
mattress set but adds the pillow top for a more plush feel.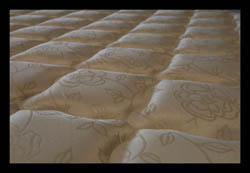 All mattress sets includes box foundation.

13 ½ GAUGE HIGH PROFILE INNERSPRING.
1" FOAM PAD ON TOP AND BOTTOM.
Total bedding thickness is 18"
(10" mattress + 8 " foundation).

1" SOFT FOAM TOPPER.
QUILTED TO 1 1/2" SUPER SOFT FOAM.
V STITCH BORDER.

5 YEAR PRORATED WARRANTY.